Sligo Rovers can today announce the launch of our Annual Draw for 2020, with sales moving to an online platform and set to run for the remainder of the year to aid finances for the club.
The Bit O' Red hold an Annual and Christmas Draw every year but are this year amalgamating them into one with an increase in the value of additional prizes.
The main prize is €5,000, with vouchers for Pet Stop, Flynn Hotels and Cat and the Moon totalling at €1,450.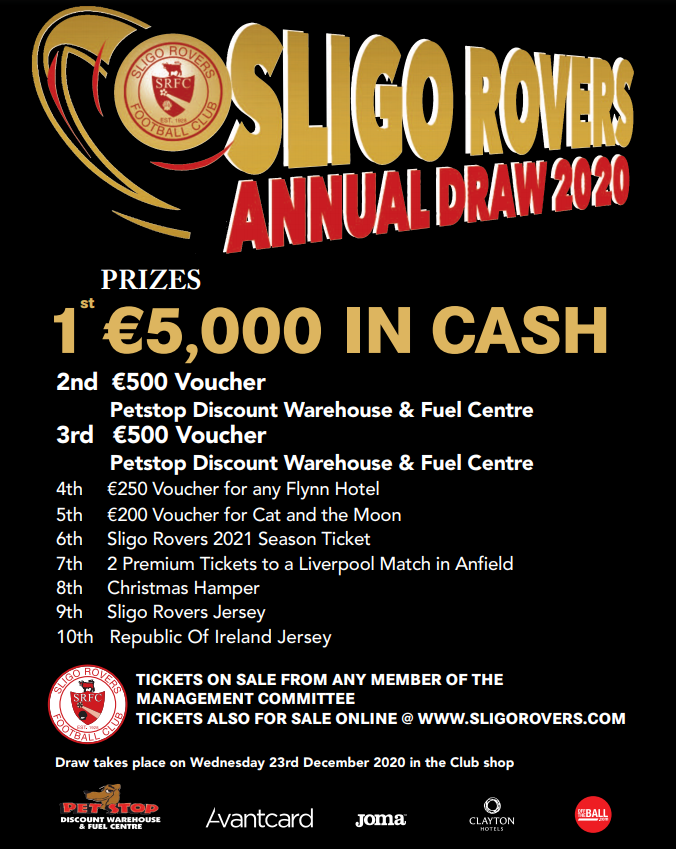 There are also a host of Sligo Rovers, Republic of Ireland and Premier League related prizes, including season tickets, match tickets and jerseys.
The Annual Draw finances a major part of Sligo Rovers' income each year, generating up to €80,000 for the club.
CLICK HERE TO BUY ANNUAL DRAW TICKETS
Much of this is sourced in door to door sales around the north-west as well as through businesses and individuals who meet socially.
This year, with many of those opportunities restricted, we are asking fans to move their purchasing and sales online where possible.
Books of 10 tickets and individual tickets are now available on SRFCDirect, with tickets set to be sent via e-mail before the draw.
Click here to buy individual tickets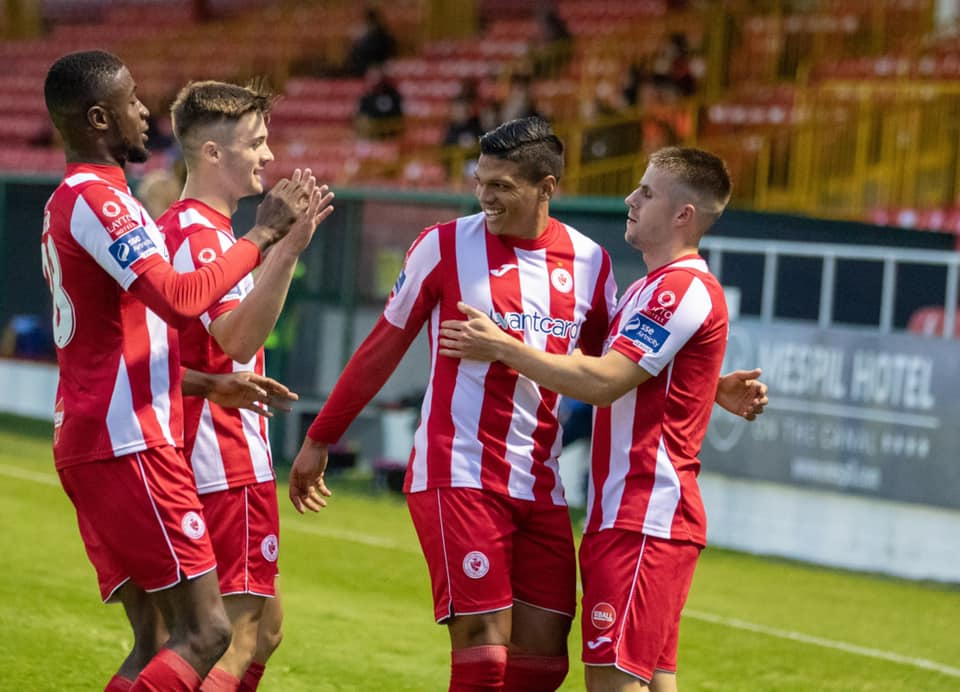 Click here to buy a book of 10 tickets
Sligo Rovers CEO Colin Feehily said: "We are beginning our Annual Draw at a most challenging but essential time. We are asking people who generously buy a ticket in a coffee shop or bar or from their home to try to support us online.
"We are keen to limit the interaction of individuals as much as possible for safety reasons in the Covid-19 environment.
"We will also have a phone service from 10am to 4pm in The Showgrounds during the week where people can purchase from our staff.
"Committee members can also distribute tickets and have books returned in a safe method. All of our ticket sellers will be briefed on how to do so, but where possible online sales are our preferred method. We are providing phone numbers to contact, below, for purchasing and the sale of books."
Sellers
Mark Cummins – Strandhill & Sligo Town – 087 9293527
Brendan Lacken – Skreen & West Sligo– 087 6175235
Andy Dodd – Calry & Hazelwood – 087 2464131
Michael Toolan – Tubbercurry & Ballymote – 087 9293318
David Finn – South Sligo & Tubbercurry Area – 086 1774448
Michael Clancy – Glencar & Sligo Town – 087 2388215
Anthony Quinn – North Sligo – 086 1963073
Gary Kilcullen – Sligo Town – 087 6492752
Feehily added: "It's been a really unique financial year for the club. Like every business we have had to adapt and adjust and manage our way through the last few months as best possible without the regular income from supporters attending matches.
"The Bit O' Red Supporters Trust GoFundMe was obviously a huge factor in getting us here, along with the 500 Club and the various methods of fundraising we have. We're very appreciative of that. The Annual Draw will be combined with the Christmas Draw primarily with the remainder of 2020 in mind. The income will be used to fund the club for that period."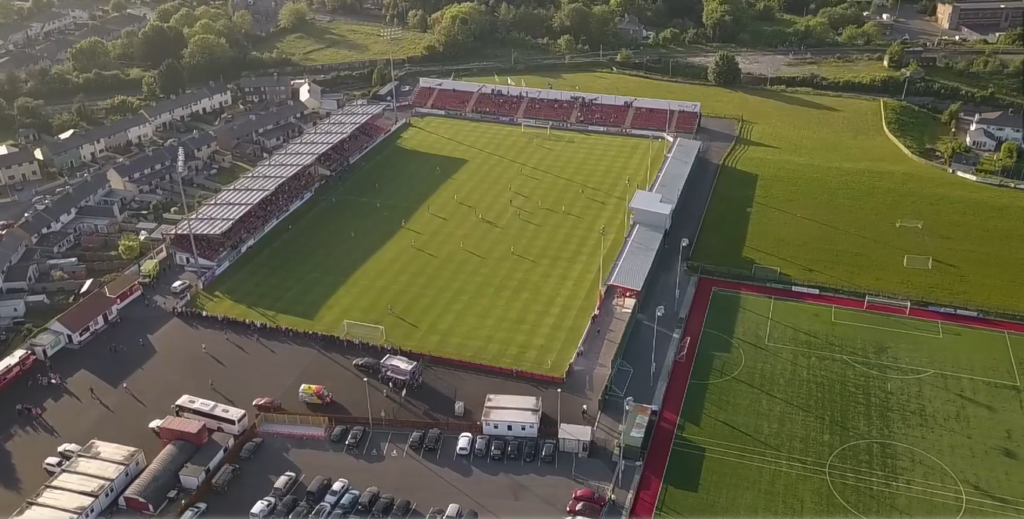 Club chairman Tommy Higgins added: "The Annual Draw is the most successful yearly individual fundraiser in the league. We will adapt our techniques over the coming months, we ask fans our fans to try to go with us in that. It won't be easy but we will do our best and history has shown we can be inventive and reach our goals. Over the coming weeks we will be revealing our plans for 2021.
"The rest of this season is still to play out but we look back on some of the moments since 31 July fondly and know that all of the efforts to restart and revive our season have been worth it. There has been nights to bring us the type of happiness we associate with Sligo Rovers, even when we couldn't be there, and when those moments can be harder to find right now in day to day life.
"I want to thank anyone and everyone that supports the draw in whatever way they can. As we know one €10 ticket or €100 book quickly adds up to the remarkable sums we have seen raised in recent years. I look forward to speaking more to you all soon."