Sligo Rovers will host a 25th anniversary celebration for the 1994 FAI Cup winning side on Friday 1st November in the Clayton Hotel.
Willie McStay and members of the 1994 team will be guests at the dinner dance event which will include a complimentary drinks reception, two course meal with tea/coffee, music and more.
The 1994 side will all be present except two players who are based in Australia.
The night will also coincide with the Player of the Year awards for this season, from senior to underage and women's team.
The awards will be presented on the night.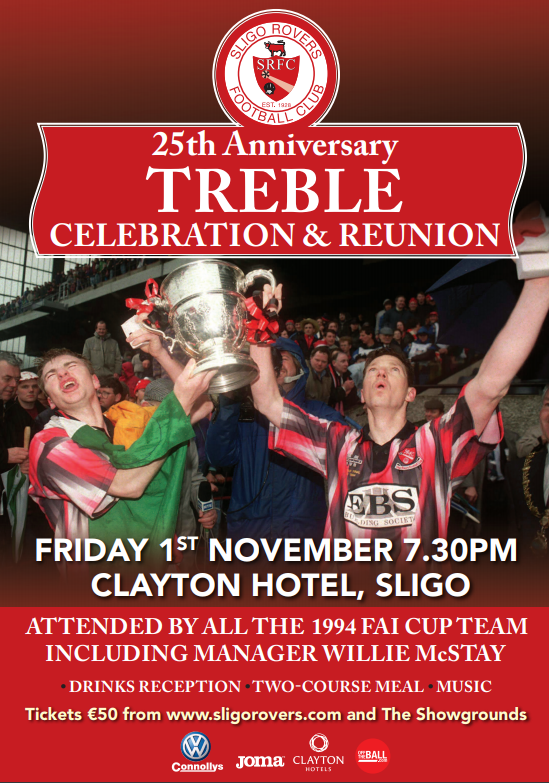 Sligo Rovers legends will also be inducted into the Hall of Fame on the night as well as honouring a volunteer who has made a massive mark on the club.
Captain on the day of the FAI Cup victory to seal the treble win, Gavin Dykes, said: "It's fantastic that the club are honouring the team and there is a great deal of excitement among all of us to catch up with the group.
"It looks like we'll have nearly all the team with us and I know Willie is thrilled to be coming.
"The 1994 era was a special time in all our lives. For us it's important to celebrate that time and we are delighted the club are organising this event.
"There'll be a lot of stories, a lot of catching up and we hope to have a really memorable night."
Tickets for the event are limited and on sale at the Showgrounds.
Tables of 10 are also available for corporate, please e-mail administrator@sligorovers.com
The 1994 team will also be honoured by the FAI at the FAI Cup final at the Aviva Stadium on Sunday 3 November.