Sligo Rovers are hosting online bingo events later this month as the club moves its bingo experience to a virtual audience.
The event will be run in a similar way to our previous online fundraisers. It is open to all players over the age of 18. A single bingo book will be €12, while a double will be €20.
The first bingo event will take place on Friday 26 February at 8pm.
We'll send you a link to download your books which contain your six bingo games in an email, you can then download them, and either play on your phone or print them off or even write them out yourself.
Click here to buy a single book
Click here to buy a double book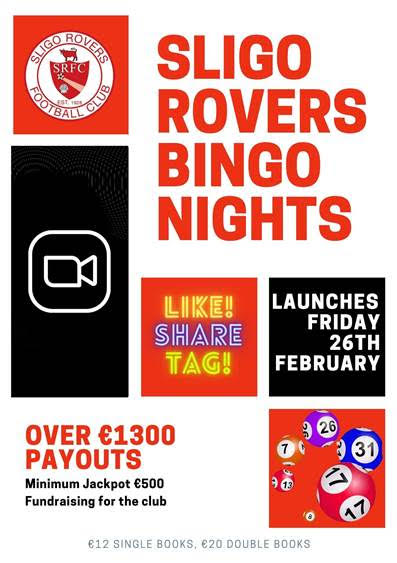 They will contain a serial number integrated with our software and bingo session
What you will need is a device to join our game (laptop, phone or tablet), it's a free app called Zoom which you will need. All the details to play will be in the e-mail we send you.
What we play for in each session
6 Games of Bingo with a Jackpot of €500 in Game 6
Single Line, Double Line & The Full House in each session with payouts over €1300
Game 1 – Orange
Game 2 – Olive
Game 3 – Grey
Game 4 – Brown
Game 5 – Red
Game 6 – Green
All proceeds go to the club and we are looking to open up to a wide audience and connect players all over Sligo.
We want to have a bit of fun with a few games during the Bingo and also the most important thing is you can see and hear everyone so you know who you are playing with & against.