Sligo Rovers manager Liam Buckley has confirmed his players will be formally returning to training on 2nd January, by which time he expects more new faces in the group.
The Rovers boss has signed 15 players so far, with the additions of Darragh Noone and Garry Buckley the latest boost.
Liam, speaking to www.sligorovers.com in The Showgrounds this morning, said he is happy with the landscape at the moment.
"I am [pleased]. We are way ahead of where we were this time last year. Being into the second year here is undoubtedly helpful.
"When I was appointed the previous season had just ended and there was a lot of work to get through, from off-season programmes, to pre-season, and most importantly actually accessing the group and trying to put a squad together. Obviously it was a settling in period too. It is a different story this year.
"We signed up 13 players from the squad of 2019 and that's extremely positive. We are going to switch a few things around with the squad as people have seen. The two new signings are the start of that.
"Darragh is a baller in the sense of it and has a lot of potential. He is an all-rounder in terms of position in midfield and is a really good addition.
"Garry has that experience, a winning experience, and if we get him to the level he was at Cork at their peak then we have a proper player on our hands. I think he can make a big impact here and be a big influence."
Having spent much of his managerial career in Dublin, the move to Sligo last October left Buckley with a new challenge in terms of recruiting players.
He admits the process of bringing in players is "different" to being in the capital.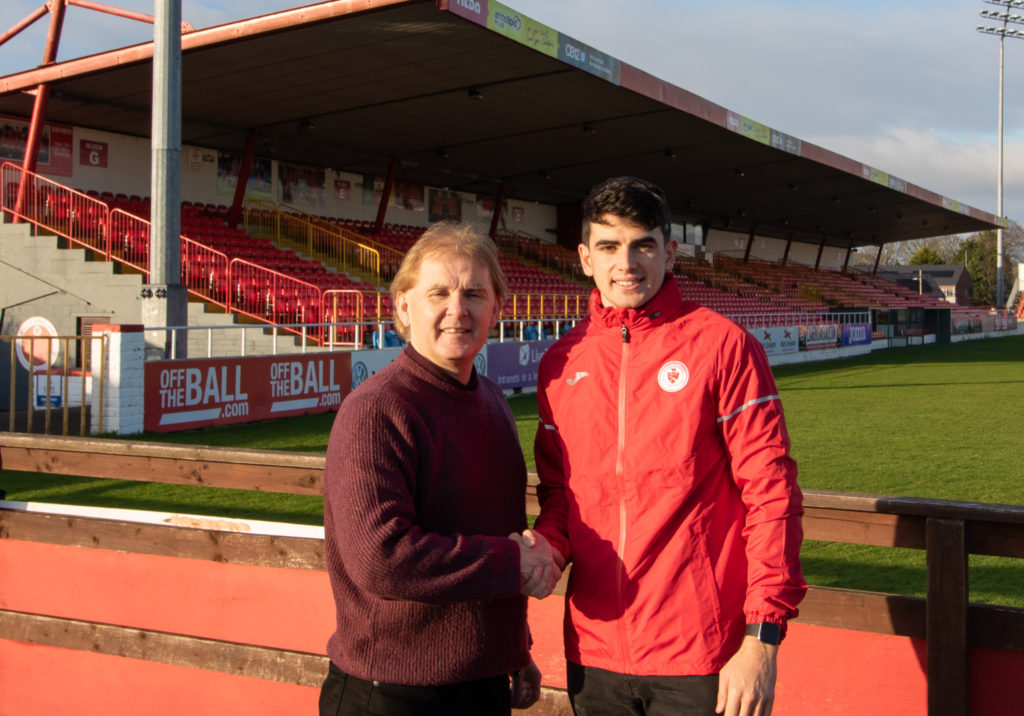 "There's a larger selection of players in Dublin.
"In Dublin you have players that move from Pat's to Bohs to Shelbourne, Bray, etc etc and that makes it in theory easier when they are more options, whereas here you are bringing a player to move to the area.
"It is different. But it doesn't matter how many players are available if it isn't the right one for the position you are looking for.
"Having done one year here already, it makes it easier going into the second year. I think this club is a fantastic opportunity for any player. For me it isn't about the fact we have 15 players signed but more that I'm quite pleased with the 15 we have.
"You'll see with the likes of Garry coming here from Cork that people see the potential. We'll have three to four more players coming in, and we are in a good place on that. I don't want to go into too much on it but we expect movement on some of that before we start pre-season certainly.
"We've been active on this, not just since the end of the season but all year. We've been exploring all of the markets. Dave Campbell, John and I have been meeting on it regularly. It doesn't really stop. It's absolutely crucial you get that right."
Last July, Rovers made just one move, signing Danny Kane who was recovering from a serious injury.
Jack Keaney, Mitchell Beeney and Liam Kerrigan departed the group and it left numbers tight for the rest of the campaign.
Suspensions and injuries also hampered Rovers, which led to changed team selections and formations, something the manager is hoping to reduce going forward.
"We'll bring in new faces as I've said. We lost three players last July and brought in Danny, who was just recovering from being out for a long time and finding his feet again.
"Actually I think we'll see what a good signing that was next year because Danny is a top player and the last few months were important for him.
"But it did leave us tight and it will be a tight group again. There is no doubt we'll be looking to the Under-19s to add to the squad at times. They have done well for us in the past.
"One thing we need to look at it is our suspensions. I think it was 28 matches where we were carrying a suspension to a player and that just isn't acceptable. We'll be looking to reduce that significantly for 2020.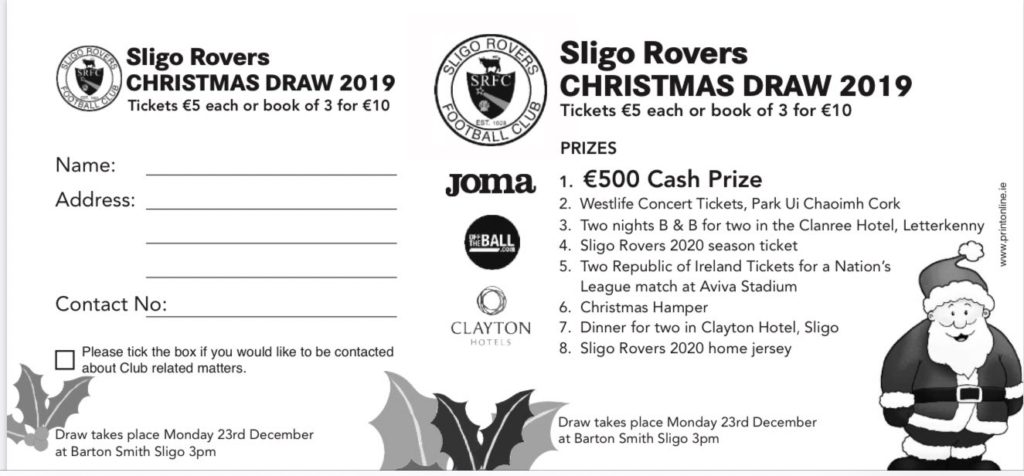 "We have versatile players and we had to be adaptable. But it left us chopping and changing and made it harder to get our style of play as we'd want it. We'd like to be more settled."
The players are currently working on their off-season programmes, and will have a six-week pre-season campaign.
Buckley will utilise strength and conditioning coach Tom French for, not just pre-season, but more throughout the year.
One target will be to reduce muscle injuries, with hamstring problems for three players emerging during 2019 meaning they missed some matches.
"In terms of pre-season, we are miles ahead of last year again
"We have teamed up with CrossFit Sligo who have come on board as our Strength & Conditioning partner.
"It won't be that we will spending all of our pre-season there, it's more that we'll be changing workloads throughout the year where needed so it might not always be training on the pitch for individuals.
"The staff and I will be monitoring that. We think we have got to the bottom of it in certain cases.
"The lads are in the gym and maintaining fitness levels, so when they return it will not take long to get working on our patterns of play etc."
2020 season ticket sales have been good so far with just under three weeks to the Christmas early bird deadline.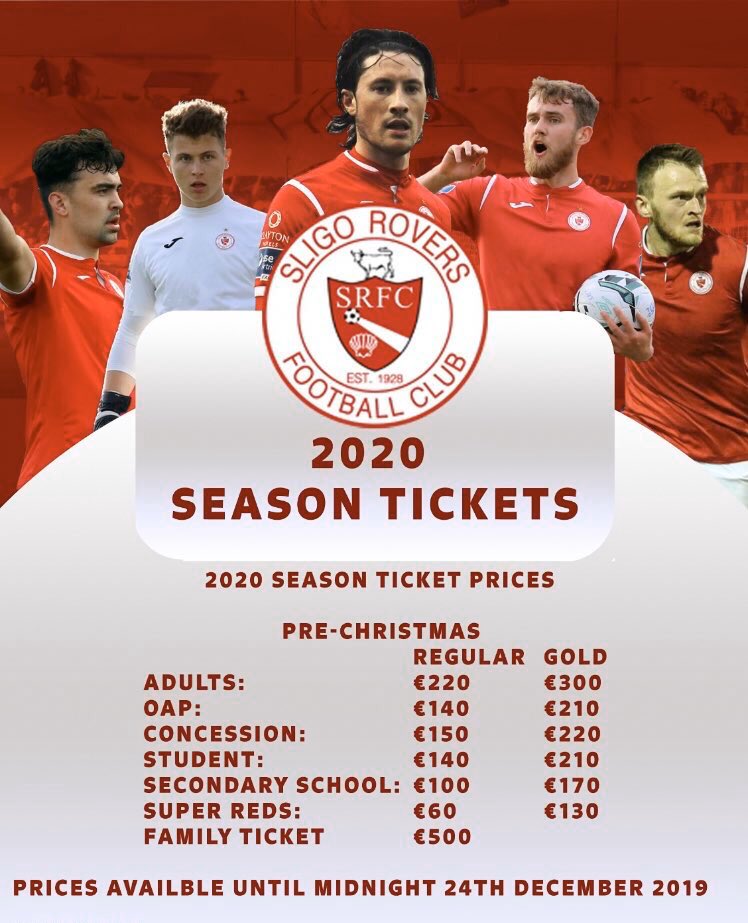 Buckley said he is looking forward to being back in The Showgrounds next year, with no specific target in terms of achievement.
"Well we have to be better, and we have to bridge a gap in terms of points, so I see it that we need to do anything and everything to get there.
"I'm happy with the outlook now. We are putting a group together that can bridge that gap in my view.
"We need the supporters to do exactly what they did last year. When we had that period of losing and drawing, they really stuck by us. Every season will have sticky points.
"What we're looking to do is become even stronger at home, to develop our patterns of play and become a better team than last year overall.
"Over the coming weeks we will add new faces as the final places in the squad are filled. It will give us a platform to try and go do something and as they come on board, we want each and every supporter with us too.
"We can grow this thing, we can become stronger and stronger and getting our fans on board is key to that. It makes our job easier in all aspects."