Regan Donelon and Kyle Callan-McFadden have signed new contracts with Sligo Rovers for the 2019 season.
Mitchell Beeney. Ed McGinty, Patrick McClean, John Mahon, Jack Keaney, David Cawley, Kris Twardek, Liam Kerrigan, Niall Morahan and Luke MacNicholas are already under contract at The Showgrounds and this duo makes further progress for Liam Buckley.
Regan Donelon: "I'm really happy because I think something very positive is happening here. My main
aim for 2019 is to start well, have a long extended run in the team, stay injury-free and find my best form.
"It's as simple as that to start with. I think it's a great move by the club to bring Liam Buckley here as manager. I've met him and he has told me what he wants from me and what he thinks I can do.
"I've had five seasons as part of the senior squad and some people might forget that I'm only 22. I have
a lot of experience for a player of my age and each season I feel I'm developing.
"There was some disruption this year so my target is to be hugely consistent in 2019 in playing matches and doing well.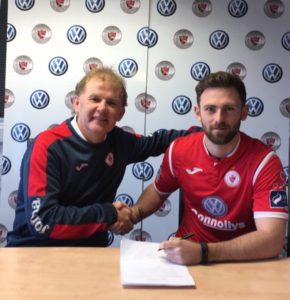 "It is absolutely critical for us that we get off to a good start and it would make us stronger for the whole
year.
"It has been a while since we've had it. That is what we are looking to do. We want to be better and it's up to all of us to achieve that."
Kyle Callan-McFadden: "I'm delighted to be here again next year. I spoke to Liam and it was great first and foremost to be in his plans. His arrival has given everybody a real lift and it's a fresh start.
"I don't think I found the form I showed in 2017 last year. There were interruptions and I found it a shock at first playing right-back when I filled in there because I hadn't featured there in my career.
"Ironically I thought I was only getting to grips with it in the really late part of the season.
"It was a tough year for the club with the home form in mind. I've got a job on with Paddy McClean and John Mahon already signed here and I'm sure more defenders will come in. I want to get that position at centre-half, like the two lads will do.
"The three of us actually get on really well funnily enough and we're in competition. I think we all have that desire within us to be the best centre half and push the club on.
"The conversations I've had with Liam excite me, you get to learn what he demands from the players so it's my responsibility to show him and be a big influence here. I know I can be that and I can't wait for the new year to begin."
Manager Liam Buckley: "It's a positive move to retain Kyle because I think he has many attributes to be a great defender.
"He wants to do well and show why we have that faith in him. I think the supporters know how good Kyle can be and we'll work with him to get the best out of him.
"There is some good competition in there now at the back.
"Regan is maturing with every season and again I think that experience is adding to his game. We'll look to direct him towards the way we want the team to play and we're very happy he is going to be part of things here."