Liam Buckley has confirmed his latest newest signing at The Showgrounds with the news that Johnny Dunleavy has joined from Cork City.
The Ballybofey man has signed for the Bit O' Red after a decorated spell with Cork that began in 2012.
He was captain of the club for the latter part of that spell.
Dunleavy is extremely versatile and can feature across the defence, as well as in midfield.
Liam Buckley said of his latest signing for 2019: "I think Johnny has many great attributes.
"He is the type of player that can be a big influence at the club but the target is to have a good pre-season and establish himself and then the rest will largely follow.
"It's no secret he has had his injury problems but we think he is a player worth investing in and he is really enthusiastic about getting back to playing regularly.
"He is an accomplished player in several positions and again he has that bit of nous from being in the league for a long time and at a club that has had success.
"We're delighted to have him on board. I think he feels enthused by what we're trying to do here. He understands it will take time and patience is required.
"We're pleased with how things are progressing and we're looking to bring in more players when we can. It's not easy for any club out there and we're working hard to get the lads we think would do well here."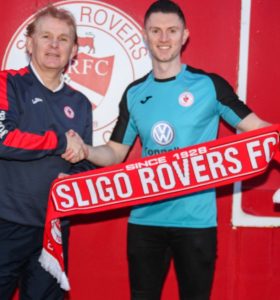 Johnny Dunleavy said: "Liam got in contact and asked me to meet him which I was delighted about. I had a fair idea about the club but what sold it to me was his enthusiasm and the excitement about it.
"I couldn't speak highly enough of my time at Cork City as I explained last night.
"The move to Sligo isn't about proximity or being closer to home. That isn't really a factor. I'm in a place where I want to be part of a new project and challenge and this is ideal.
"You look at the likes of Ronan Murray signing and players like David Cawley here already and there's certainly something building.
"I'm don't want to win one week and lose the next. That isn't going to fulfil me. My mentality is to try to win everything and I like to think I play with my heart on my sleeve.
"There will never be a lack of effort. We know it's not overnight. I hope my experience and the likes of Ronan Murray from Dundalk can be beneficial to the young guys here and we can build on it.
"Everyone knows about long-term injuries. I've played some of the best football of my career in the likes of the first half of 2016 season where we won the league. I'd like to get back to that level and I think I can.
"My thoughts are to get stuck into pre-season and get playing. Liam Buckley hasn't gone into too much detail of nailing down a certain position.
"That will come in the future; I'm just focused on being in great condition for the opening night of the season."
Dunleavy can look forward to matches with neighbours Finn Harps next year.
"I'm from just over a mile away from Finn Park so my connections are probably quite clear. They are going to be great occasions and thousands of fans.
"I know The Showgrounds can really rock with big crowds and it won't just be derby games we're looking that for. I don't think we should speak about expectation.
"But what we do need to get back to is making The Showgrounds the traditional tough place to go it was again. The record from last year needs to be improved upon and that's a big aim.
"We'll all look forward to the Harps games and I can guarantee you I'll be doing all I can do secure the three points for Sligo Rovers regardless!"