Sligo Rovers can confirm that academy player Johnny Kenny has signed his first professional contract with the club today, penning a deal for the 2021 and 2022 seasons.
Kenny progressed from his club Arrow Harps and at school level with Coola Post Primary to join the Rovers underage sides where has made a big impression in the last few years.
That culminated in being the top scorer in the SSE Airtricity League Under-17 with 17 goals in eight games.
Kenny was moved up to Under-19 level for the end of the year, scoring two in the Shield semi-final and four in the final to take his record to 23 goals for the year.
The 17-year-old trained with the first-team last summer and today becomes the first new academy player to sign as a professional for 2021.
He is the son of a Rovers great, also Johnny Kenny, part of our 1994 FAI Cup winning team.
Liam Buckley said: "We're very pleased to sign Johnny to his first professional deal today. Johnny is the latest in a long list of academy players that have stepped up to join our first-team.
"We have the likes of John Mahon and Ed McGinty who may be the obvious ones but in our squad we had seven or eight play first-team football last campaign.
"I have to give great credit to our academy coaches because I know what is coming through at the moment and the amount of talent is really something. The technical ability is very evident and that's exciting for the football club here at Sligo Rovers and the region as well.
"With Johnny, he has shown the promise to deserve this contract. His record at underage level speaks for itself. He's bright, quick, a brilliant finisher and has the physique as well.
"He will fall into the category that if he is good enough he will get the opportunity. First and foremost he must focus on his education and his Leaving Cert. That is his main priority and it is for every young player at the football club. He will train intermittently with the group before his Leaving Cert.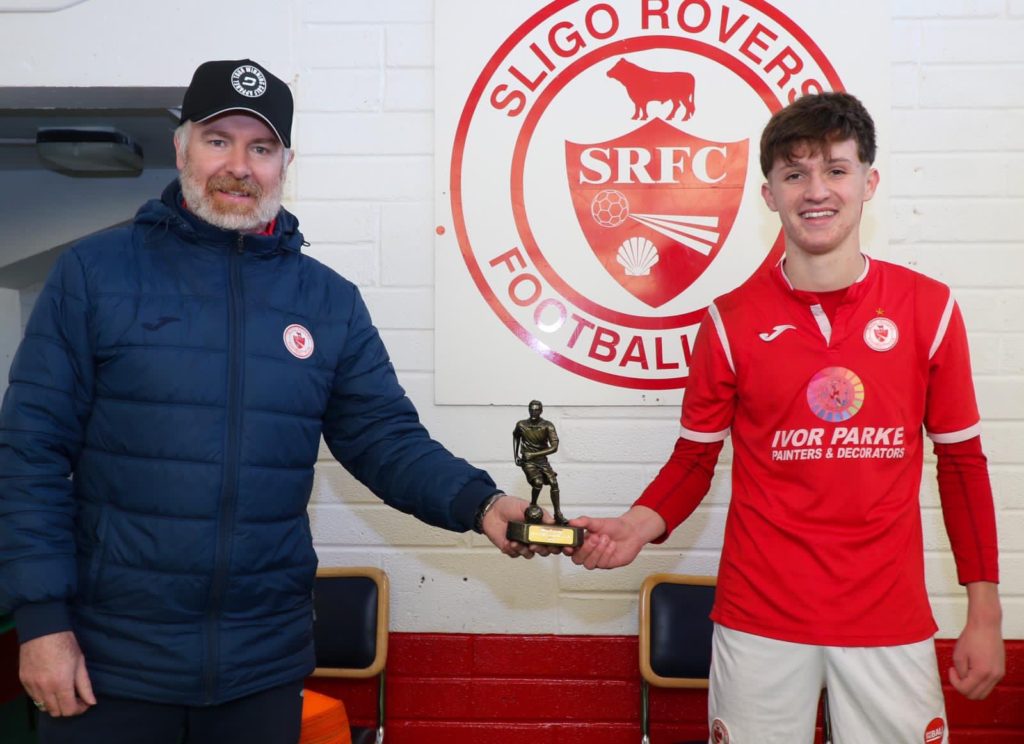 "As a former striker I'm looking forward to working with him and being able to help him develop. He has huge potential and it's up to him. It's 100% that he will play League of Ireland football with Sligo Rovers and he can go on and have a career here, I have no doubt about that. The question is how far he can go. Providing his education is on track and his attitude, application and all of those things are in check, the future can be very bright for him I hope.
"His father was a brilliant League of Ireland footballer for Sligo Rovers. To see another Johnny Kenny come through with that talent again, it's brilliant. But as I say, can he match or even better that. It's up to him and as a football club we will do everything we can to help him along the way. He's also very fortunate to have his father guiding him along the way who has all that experience."
Johnny Kenny said: "I'm absolutely delighted to sign today, it is a dream come true for me. I've been a supporter of Rovers all my life and for so long I wanted to be a player for the club at first-team level.
"I know the hard work starts now and I will be giving it absolutely everything. The manager and the club have given me the opportunity and I will do all I can to take it.
"I want to thank every coach at Sligo Rovers who've helped me get to this point, everyone at Arrow Harps and Coola Post Primary School for helping me in football, as well as my Mum and Dad. I can't wait for this season to come."
We'll hear more from Liam Buckley on preparations for the 2021 campaign shortly.