Gerard Lyttlle feels the first professional contracts for Niall Morahan and Luke McNicholas continue the course the club is taking for the future.
While Mikey Drennan, Kris Twardek and Lee Lynch were among the mid-season senior signings for the club, Morahan and McNicholas have joined a host a young players to enter the club's full-time set-up. Liam Kerrigan and Ed McGinty also recently signed new pro deals.
Lyttle said: "The club has taken a shift in policy in recent times. It is so important to have a good youth structure.
"We are not afraid to play our young players when the time is right. We have our head of youth Danny O'Leary and a lot of great young coaches working with us.
"I try to get to as many of the matches as I can and now that school is off we've brought more in for training. I see the likes of Darren Collins or Dan Beya or whoever it is and you get to know them a bit better when they're in with us.
"We are not signing these lads today for the sake of it. The club has taken this route in recent years and more and more are emerging. I think if we can keep them together, keep their mentality, then it can produce some terrific players and our own players at that. So much has been spoken about Raff Cretaro in the last week.
"It didn't happen overnight for Raff and it didn't happen easily. He was, for so long, one of the few local links to the team. But if you work at it, they do come along more frequently.
"The club will maintain a full-time environment that will aim to compete with the best in the country. We aren't there yet but we will keep trying to improve and it's about building.
"We have signed senior players from in the league and outside the league that are the base of our team and that will also continue.
"But we will also give these chances to our local players. It's the remit of my job from the board and it's something I'm passionate about, and from being here since last year, I know it's something our supporters are passionate about."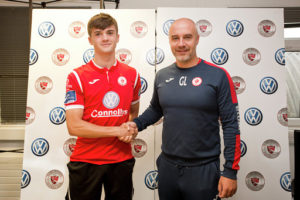 Lyttle said on the duo: "Niall is the captain of our Under-19s and very consistent. He's in with us now in first-team training and we want to see how the full-time environment will benefit him and take him to the next level. There's a lot of potential in Niall. Again, like a few players previously at the youth level, he has worked for this chance.
"Out of all the players we've signed on pro terms, Luke is one that really, really excites me. Rodney, our former goalkeeping coach, felt he was a brilliant talent. He now makes the step up and it's going to be great for him.
"We've already held a couple of conversations about a loan move in the future – just to get some senior football if we can – because training and Under-19s games aren't enough for certain players. That's for next year, however. For now he'll come in and work with the goalkeepers. That's his focus and to become comfortable in the set-up. He's one we have a lot of confidence that he can do well but like any player, they have to grab it with both hands now."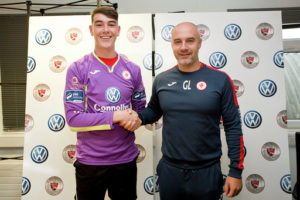 Luke said: "The experience of being part of the first team has been first class. I've loved it and there's an obvious step up in class.
"To work with someone like Mitchell Beeney is unbelievable and I know Ed who is going from strength to strength.
"My club in Mayo, Manulla, were very supportive of me and were the big part of my earlier years of playing football. I'm grateful to them today. My family have also always been behind me so I want to thank all of them too.
"It's going to be a great experience being a permanent part of the first-team squad. I want to show I'm here on merit and best of all I can play Under-19s for the next year so it gives me a chance to keep playing matches. We get top coaching and I feel I'm in a great place to keep getting better. I'm thrilled to sign today."
Niall said: "It is that cliche of a dream come true to sign as a professional, it is every young lad's ambition. I've been in training with the first-team and it has been terrific. There are plenty of players I know like John Mahon and Jack Keaney and they've set the example.
"This is a great opportunity for me. I was involved in pre-season with the first-team and play Under-19 now. That'll continue hopefully. But I think I can replicate what the lads have done eventually. I'm sure the coaches have a plan around that, the Under-19 management and the Under-17 before that too has been brilliant.
"It is nice to be a Sligo Rovers first-team player from Leitrim too – Rovers have a following in the area and people in the county would be asking how you are getting on there.
"My former club Carrick Town has a good link with Rovers. I'd like to mention them too for all their help. Hopefully it grows the link between Leitrim and the club. I want to progress and signing professionally where I can put 100% into my football will give me a great chance. I'm going to keep working hard and do my best with this platform I've been given."