Robbie McCourt is the latest player to commit his future to Sligo Rovers, the club are delighted to announce this evening.
The defender has signed a two-year contract after a hugely impressive debut season at the Showgrounds.
The Dubliner played 25 league matches, despite breaking his wrist in the summer time, and has been a very influential player for the Bit O' Red.
Rovers secured a top three finish in the league with two matches to play and remain in contention for second place.
McCourt said: "I've really enjoyed my time here so far. It's gone great. When I signed Liam laid out his expectations and we achieved exactly what he wanted. That was for us to become a better team and qualify for Europe again.
"I was very happy to sign a two-year contract when the offer came. We have to keep getting better and I believe we will. The club really looked after me and this is a great place to play football and to live. I think that's helped me in how the season went this year.
"We started off very well and I was playing week-in week-out and more often than not we were winning. The injury knocked me out for 14 weeks. It was a break and I had just had to bide my time.
"I feel I came back strongly and the win last weekend ensured the top three and we want to finish if off well now and see how many points we can get."
McCourt emerged as first-choice left-back this year following pre-season but he has paid tribute to his team-mates in helping him make his first season in Sligo an impressive one.
"It helps when you have the players around you.
"I played most of last season with Waterford as a centre-back. It wasn't certain where I was going to be playing this year. The gaffer said left-back when I came in and I've played there most most of my career so I was happy with it.
"We've got top players in the team but as well as that I've had Regan Donelon pushing me for my position all season. I think he had an injury at the start of the year and he's been driving me on since that. It's a strong group and it makes you a better player.
"The defensive record has been the second best in the league and we've been very solid as a group."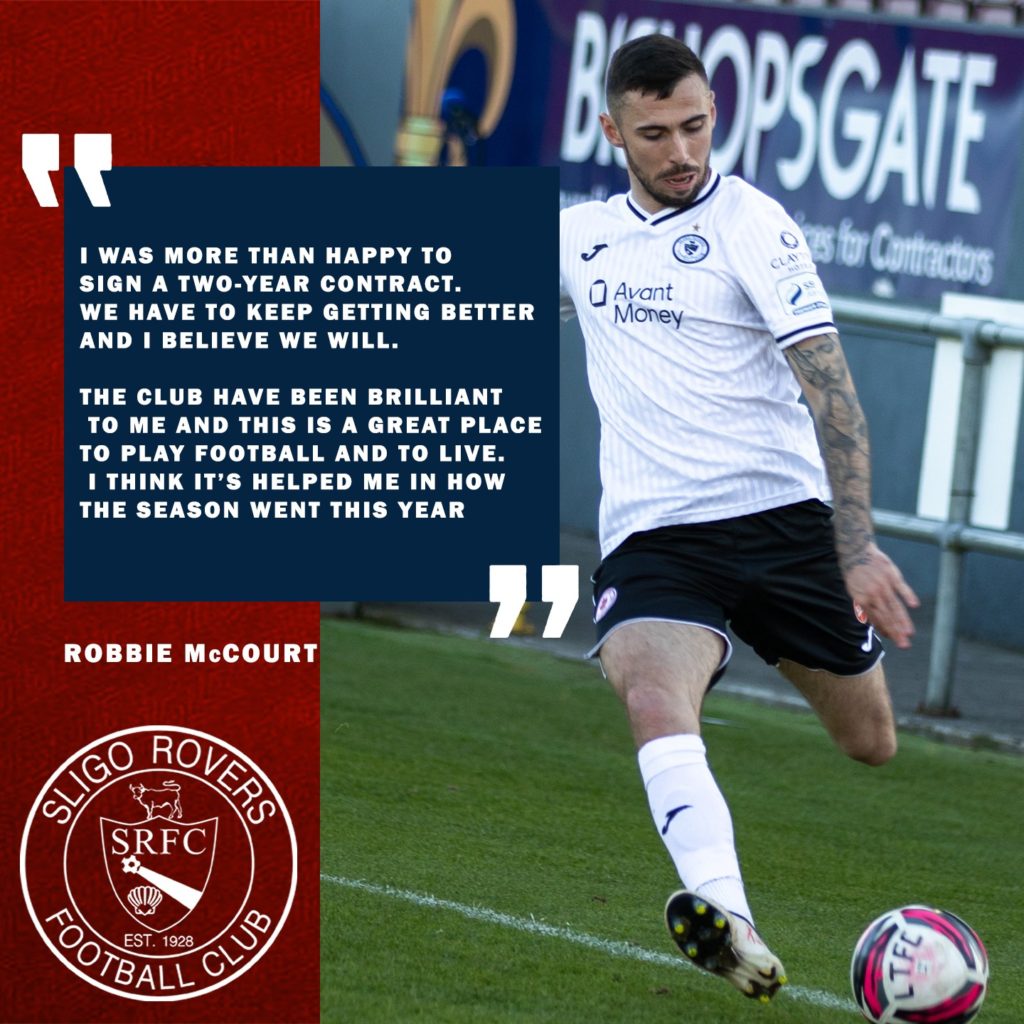 As McCourt signs for 2022 and 2023, he said the move to Sligo has paid off and a result committing for two seasons required little thought.
"I really enjoy the lifestyle and the place. It's great for being totally focused on football and I'm really happy with the decision I made to come here. The next two seasons can be big ones for the club. The league here is tight and we've shown we can compete and be up the top of the table.
"We want to challenge and I know the gaffer will add to the squad again and with even more quality players."
The three and-a-half months McCourt spent on the sidelines coincided with the most difficult part of the year for the Bit O' Red, including exiting the Europa Conference League.
McCourt left his former club Bohemians after helping them qualify for Europe in 2019, while in Waterford it was Rovers who pipped them on the final day, meaning he missed out for 2021.
He was set to play after moving to Sligo but the injury scuppered hopes of a European bow last July.
After helping the Bit O' Red qualify for the 2022 competition, he is keen to finally experience the European stage.
"I feel like I've missed out three times so it's something I really want for next season. Europe didn't go how we wanted as a team this year and that will be something to target. We were unfortunate that we had a lot of players out at the time.
"I want to play and I want us to win one round, two rounds or more, so when that comes around I'll be very keen to play and this time to do ourselves justice."
Liam Buckley said: "Robbie has been a fantastic signing for the club. He's been brilliant all year and that period he was out we badly missed him for what he brings.
"He jumped straight back in after his injury and once again he's been excellent. For me he is one of the best left-backs in the league without doubt. I like to think he can be even better next year.
"Robbie signing for two years is terrific business from the club's point of view. From my experience when we bring players to Sligo Rovers, they love it here and Robbie is another.
"He's settled in extremely well and I know he has a desire within him to keep pushing on. We've got two games left in the season and there'll be no let-up. We want to finish the season as strong as we possibly can."