A group of Sligo Rovers fans, many of whom have been friends since the 1950's and 1960's plan to remember two of their deceased pals on The Bit O' Red Wall.
It is one of the many wonderful gestures and memories we are seeing being recounted through the wall, with 165 tiles sold so far.
Vintage Reds (aka The Rednecks) have maintained friendships that sometimes began in national or secondary school, continued through their working lives and invariably involved a shared affection for Sligo Rovers.
The two friends they want to commemorate in the first set of tiles on the The Showgrounds Wall are the late Michael J Leyden and Michael Mc Nulty.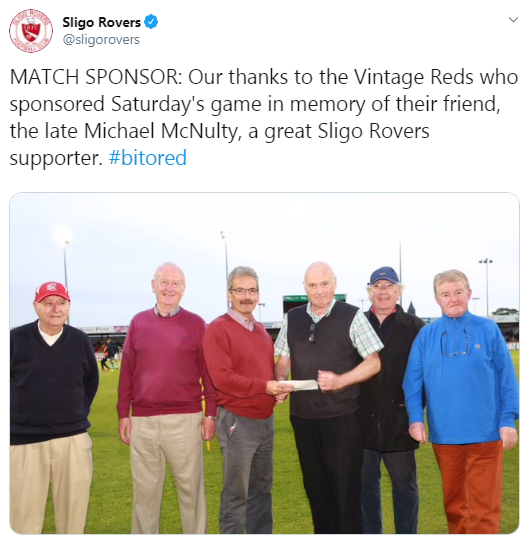 According to Barney Bree: " Both Michaels were passionate Rovers supporters. Michael "Mick" McNulty, like many of our group, was based in Dublin for years and we had great times, travelling to grounds around the country.
"He and his family eventually came back to settle in Kevinsfort. He was always very generous to the Rovers with his accountancy and auditing skills."
"Michael J Leydon was originally from Market Street and he later moved to Ard na Veigh. He was a very popular teacher at Sligo Grammar School and after his retirement, he continued his interest in walking, reading and theatre. It was a huge shock when he passed away while walking the Camino in Northern Spain last November, a year after Michael Mc Nulty's death."
The Vintage Reds have been generous backers of Rovers fund-raising campaigns in recent years, including the 'Rally Around the Rovers' and 'Up the Bit O' Red' campaigns. They sponsor a home game each season and plan to do so again this year.
According to Barney: "The two guys loved the Rovers. We will have our annual gathering when we sponsor a game during the season. We look forward to seeing the Wall and the permanent place Michael Mc Nulty and Michael J Leyden will have in The Showgrounds."
Further Stories from The Wall will feature on the Sligo Rovers website in the coming weeks.
A tile featurs three line of text with 16 characters per line including spaces.
The deadline for having a tile in the first section of the wall to coincide with the new season is January 31st.
The first section of the wall holds just over 190 tiles so we advise to buy as soon as possible.
https://srfcdirect.com/fundraising/bit-ored-wall/