2020 season tickets are now on sale online and in our club store in Barton Smiths.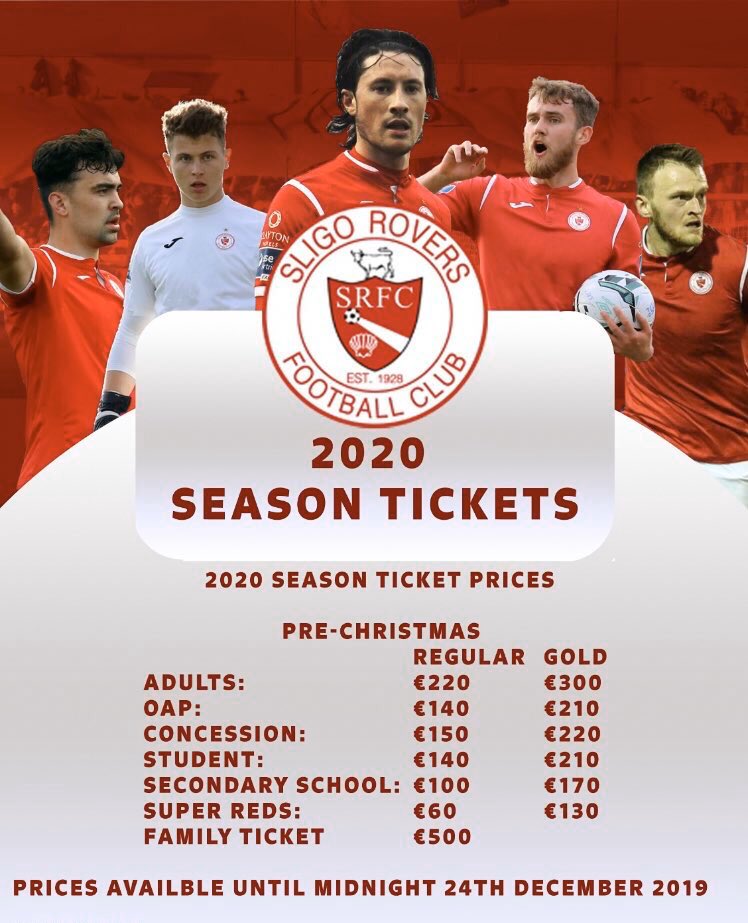 As with every year, supporters are encouraged to buy before Christmas Day, as prices increase after this.
Supporters have the chance to reserve their own seat for every league game in 2020, as well as all the cup games too. In previous seasons, Gold Season Tickets only reserved your seat for league games, however in 2020 we have added cup matches so you don't have to worry about coming early to secure a seat, your name will be on it.
Gold Season Tickets:
A Sligo Rovers Gold Season Ticket allows the supporter to select their favourite seat in the ground and have it reserved for every game of the season. Whether you work late and can only make kick off, enjoy a pre-match tea or coffee in the clubhouse, or you simply want to wait until the last minute to avoid the cold, your seat is secured.
Gold season tickets will work out at around €3.50 extra per match.
Adult Season Tickets:
Adult season ticket prices for 2020 have been frozen, with no increase from last season at €220.
An adult Gold ticket costs €300, where you can reserve your seat for every game, as explained above.
Gold Season tickets are continuing to prove extremely popular with an increase in demand each season.
Student and Concession categories:
We are again offering discounted rates for second and third level students. Secondary school tickets are €100, around half the amount you would pay by paying on the gate each week, and Third Level Student tickets are €140, saving you around €40 for the season.
Bit O Red supporters who are unemployed can purchase a concession season ticket which will cost €150, with an up to date letter required from your local Intreo office to show your you are not working.
OAP/Senior Citizen Tickets:
These tickets are €140 for 2020, with the gold option just €210.
Family Season Tickets:
As with previous seasons, we are offering families a discounted rate for entry to The Showgrounds. For two adults and to children aged 12 or under, it will cost €500. This is a big saving for families of four, however we understand as a club the significant spend these families will have over the course of the season, so we feel this offer will be a great help to them.
Super Reds:
Our fantastic Super Red offer will again remain for 2020.
Season Ticket prices will be €60 for kids aged 12 and under, but this season they will get even more.
Kids will receive a Sligo Rovers training kit, including a crested T-Shirt, club shorts and socks, which will be worn Liam Buckley's first team in 2020. Kids will also be given a voucher for €10 off our new 2020 home kit, as well as entrance to our hugely popular Super Red open day where Super Red ticket holders will receive their training kits, meet the first team players and be put through their paces by manager Liam Buckley and his staff in an hour long coaching session. Kids will also receive a birthday card in the post in time for their big day in 2020, signed by their favourite player.
Credit Union Finance:
To make it easier for supporters to purchase their season tickets for 2020, we have teamed up with Sligo Credit Union who will offer supporters a short term loan, in order to purchase their ticket and enable them to pay for it over the course of the season, rather than in one lump sum before Christmas.
To purchase your ticket online, visit www.srfcdirect.com
To purchase your ticket, you may also visit one of the following outlets:
The Showgrounds
Barton Smith, Sligo
Collery Menswear, Sligo
Lavins Menswear, Ballymote
John Lowe, Carrick On Shannon
Greenan Electric, Boyle
Gerry Kenny Sport, Ballina
Colerys Shop, Ballina
Gillespies, Tubbercurry
Tansey's Centra, Gurteen
Tony Quinn, Cliffoney